Electric grill is an expert in steak frying, it has precise temperature control. Strong, medium frying or with blood – it's up to you. Not even knowing how to cook, you can do everything delicious. Both surfaces heat up quickly, the heat doesn't change while the dish is being cooked. The flat surface creates a crust, while the ribbed surface creates classic stripes. Meat is cooked on both sides, so the cooking time is reduced and the product's maximum health is maintained.
Summer time is the season for kebabs and barbecues. Contrary to what you want, grilled food can not be cooked everywhere and not always. For example, it is not possible to do it in your own apartment during winter. But this is just a delusion, you just need to figure out how to choose an electric grill for home.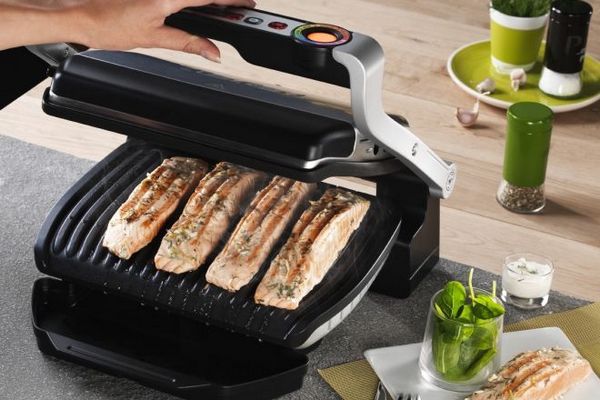 The grill has many advantages. Its main advantage is that you can use it to prepare a variety of useful dishes. You can install the electric grill in any comfortable room with good ventilation and electricity.
As a rule, it is equipped with a thermostat system to regulate the temperature. This is an important function for cooking steaks, for example. In addition, it heats up instantly, thus saving time and energy, and the absence of an open fire makes it safer than a gas appliance.
Many indoor electric grill models are lightweight and small, and can be placed on any horizontal surface.
Types of Electric Grills
There are three modifications to the electric grill.
The open-view device looks most like a classic street version. Food prepared on it needs to be turned over to make it evenly cooked from both sides. An open grill can be used to cook thick pieces of meat in large batches, as it usually has a large heating surface area.
The open view is lighter than closed, making it easier to carry. The pan in it usually has a flat rather than an embossed surface. It is good for cooking such dishes as bacon and eggs and pancakes. Needless to say, it also cooks meat and vegetables, but the bars that many people love will be missing.
Before buying, remember that this type of grill during cooking will create a lot of smoke, so the room where it will stand should be well ventilated or have a powerful extractor hood.
Closed view
The closed-view electric appliance has a hinged cover that closes and presses the food. Therefore, there are two heating surfaces in it at once – at the top and at the bottom.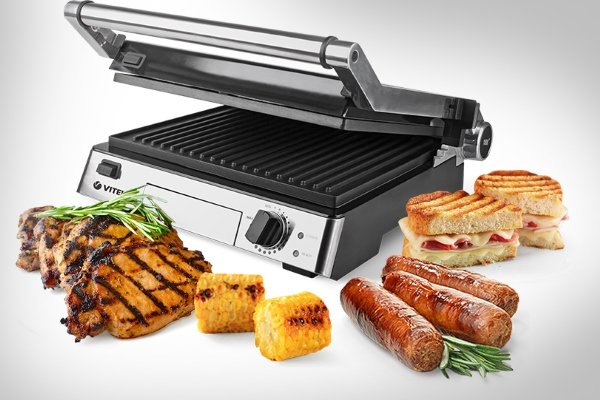 There is no need to turn the food being prepared, as both sides of the food are roasted at the same time. This saves cooking time, but the size of this unit is smaller, so you can feed only two people at once. An undoubted advantage is the absence of smoke and splashes, as the room from all this will protect the lid. Models of closed appliances are very small, they can be placed on the kitchen table or any other work surface. They are suitable for fast daily cooking.
Contact-less
There are also contactless electric grills on the market. In devices of this kind, food does not come into direct contact with the heat source, i.e. with the heating surface. It is cooked in a stream of hot air. As an example, you can recall the electric grills, which were popular during the Soviet Union.
Type of electric grill placement
There are two kinds of them by the way they are placed. The first is portable. They allow you to grill in all conditions, even in the tightest of spaces, which is what makes them convenient. The models that are easy to wash after use are very popular. A number of portable electric grills also have quite large models, which are suitable, for example, for the country house.
The second ones are stationary. They are designed for true lovers of cooking in this way and put separately in the room, or built into the kitchen ensemble.
How to choose a home electric grill?
When choosing a home electric grill, you should pay attention to its capacity. The bigger it is, the better its performance will be. The ideal grill should work between 1500 and 2000 watts. The power of the Portable Compact Grill can be reduced to 1000 W.
The shape of the heating surface and its material: it can be either smooth or grooved, made of aluminium or cast iron – both options are available. An important point to pay attention to is that the surface should have a non-stick coating so that the food does not stick to it.
This point is very important, so it is necessary to dwell on it in more detail. The best option when choosing is a universal surface, which is suitable for cooking any dish. It can be either smooth or fluted. The material can be aluminium or stainless steel, and the heating plates can be exchanged.
There are models made of vitrified clay. Although they look beautiful from an aesthetic point of view, but have all the disadvantages of this material – there is a risk that the device will simply crack if cold water gets on it while it is not cool enough.
Indicator of heating. It indicates that the surface has been heated to the right temperature. Many other models have an automatic shutdown option.
A tank for accumulated fat. It is especially important if you are considering buying an open grill. But it is also desirable to choose closed devices with this option.
Temperature control. Most models are equipped with mechanical or digital temperature controllers.
Easy to use and easy to clean. The more complex and ingenious the device, the less desire you will have to use it. Ideal if it has removable parts that can be washed in the dishwasher.
It should also be noted that in a competitive environment every manufacturer is trying to give their appliances some distinctive "chip". A good example would be the possibility to add spice water to a special container so that the food is soaked in the spicy flavour during cooking.
To sum it up: the stationary outdoor electric grill is suitable for a country house or cottage, because with its help you can cook immediately for a large company. Closed large stationary electric grills are suitable for the same category of use. It is worth considering that the cost of electricity out of town also plays a big role. If it is too expensive, it is better to choose the gas alternative.
The compact mobile electric grill will be ideal for urban flat conditions – it is easy to use and does not take up much space.